I...Deviant - Memento Mori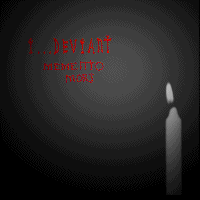 Sur des premières notes de violon qui rappelleront d'excellents souvenirs aux rares mais inconditionnels fans de
Mark Snow
, compositeur des illustrations sonores des séries de Chris Carter (X-Files, Millennium), I...Deviant nous plonge d'emblée dans une atmosphère pesante et lumineuse à la fois, tant les instruments électroniques et synthétiques ici invités s'emploient à provoquer une oscillation envoûtante entre l'un et l'autre. Ambient et ténébreuse, la lumière noire créée ici se posera sur ces simples mais efficaces orchestrations, proches du minimalisme et de l'étouffement, de la noirceur et de la solitude. Mélancolie et peur se confondent, grâce à des vocaux autant chuchotés que parlés, effrayants à souhait, dans des performances rappelant parfois Ana-Varley (
Sopor Aeternus
, à qui nous pensons d'emblée ici). Entre menace et perte de repères artistiques et musicaux, l'oeuvre de I...Deviant est un océan nocturne dans lequel l'auditeur se sent comme happé vers des abîmes sombres et froides, éclairées ci et là par quelques langages instrumentaux bienvenus mais brefs (saxophone sur Cleansed, piano sur Nichts); l'émotion et la contemplation se perdent dans des méandres synthétiques proches de l'âme humaine telle qu'elle ne souhaite jamais se révéler, négative et dissimulée dans ses retranchements les plus noirs et hostiles. Vagues brumeuses et fantômatiques cotoîent d'émouvantes cordes, language humain de la perte de conscience et de la solitude, désespoir merveilleux et mélancolique. Une révolte sonore sous-jacente se créent tout au long de l'évolution de ce formidable mini-album, jamais explosive et incontrôlée, mais obsessivement suggérée et démontrée. Telle une rétention de la colère, un murmure de lucidité précédant la disparition totale, un dernier élan d'humanité (battements sur Darkness And Decay), l'oeuvre est un adieu à l'humain, un départ pour un voyage vers l'obsurité et l'inconnu, en sachant pertinemment qu'il n'y a rien au-delà, mais qu'il faut savoir et plonger dans ces abysses aussi effrayants que captivants. Une oeuvre sombre et délicatement subversive, émoûvante aux larmes, tant son humanité est proche de nos pensées les plus intimes et refoulées. Obscurément superbe...
Slug
Based on first violin tunes which while remind the few inconditional fans of
Mark Snow
, genial and talented composer of all Chris Carter's TV series (X-Files, Millennium), I...Deviant composes a heavy but light and shiny atmospherical music, thanks to synthetic and electronic instruments allowing each listener to travel through a hypnotizing then frightening musical universe. As ambient as dark, this kind of black light improved with such a musical originality finds its basis on simple but efficient arrangements, as close to minimalism as to lack of oxygen, darkness and loneliness. Melancholy and fear melt to each other, thanks to whispered or spoken vocals, reminding us of
Sopor Aeternus
' singer Ana-Varley, who is more than welcome in this particular case. Oscillating between menace and loss of musical and artistic bases, I...Deviant's work of art is like a nightly ocean to which one will immediatly feel attracted and dive into cold and dark depths which will sometimes be enlightened thanks to brief but appreciated instruments (sax on Cleansed, piano on Nichts); emotion and attraction are then lost into synthetic languages which have never been so close to the human soul, as it can't be revealed in such a nudity and light, appearing as negative as dark and hostile. Foggy soundwaves and ghostly string arrangements stand for a human voice talking about the loss of consciousness and neverending solitude, despair and melancholy. Then, a kind of underlying rebellion finds its place during the listening of this wonderful EP, even if never exploding and out of control, but obsessively suggested and shown. As a contentment of wrath, isolation and softly delicate murmur before complete disappearance, an ultimate invitation to humanity is felt and provoked (heartbeats on Darkness And Decay), this music stands for a farewell to human kind, as much as the beginning to a journey through the unknown and the complete solitude, while musicians understand there is nothing out there; but one has to know and understant, even if this particular way is dark and frightening. Memento Mori is a captivating, delicate and subtle work of art which will move each listener to tears, as all the humanity contained here is likely close to one's intimate and hidden feelings and thoughts... Darkly brilliant...
Slug